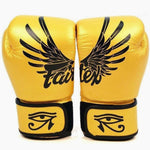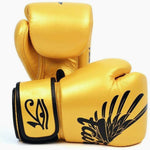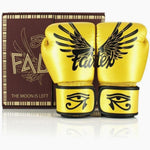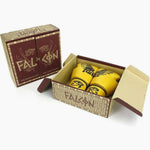 Thai boxing gloves Fairtex BGV1 Falcon Golden
Fairtex
€ 149,90
Recommended price:
€ 164,88
-9%
Receive it between Thursday 30 November and Tuesday 05 December
Shipping to Europe is free of charge for orders from 199 €. For lower amounts shipping costs will be calculated at checkout. Learn more about shipping costs.
You have 30 days from the delivery of your order to return one or more products and ask for a refund. Find out more.
What makes it special
The Glove Fairtex BGV1 Falcon Golden is a limited edition of Fairtex for those who want something unique. Memorable in appearance and excellent in technical features, theseBoxing gloves golden ones stand out. At first glance, one is caught by the symbol that stands out on the glove closure: it is the eye of Horus, emblem of royalty e indestructibility. On the back, in addition to the logo Fairtex is the design of a pair of wings, another reference to the Egyptian deity Horus, a symbol of protection. Kings usually wear crowns on their heads, but with these gloves the crown is on your hands. Triple-density padding ensures maximum comfort and protection: knuckles and fingers, including the thumb, are safe, and the wrist is supported and sustained by the velcro closure. Made of 100% leather, they are handmade in Thailand to ensure only the best during fights. Excellent for the Muay thai, they are perfect for K1 and Boxing.
SKU: 5536-FALCON/10 Oz/ORO
Exterior cladding: leather
Inner padding: foam with triple layer
Closure: velcro
Other information
Made in Thailand
Design BGV1: wraparound "tight fit" fit