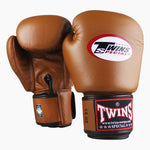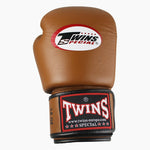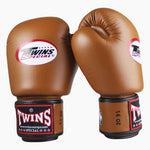 Thai boxing gloves Twins Special BGVL3 Retro Brown
Twins Special
Receive it between Thursday 30 November and Tuesday 05 December
Shipping to Europe is free of charge for orders from 199 €. For lower amounts shipping costs will be calculated at checkout. Learn more about shipping costs.
You have 30 days from the delivery of your order to return one or more products and ask for a refund. Find out more.
What makes it special
I Boxing gloves Twins Special BGVL3 Retro are some Boxing gloves handmade only from the leathers of the most highest quality. Equipped with Velcro closure, they offer you excellent wrist support during training and competitions of Muay Thai, but also Kickboxing or Boxing. While the 8- and 10-ounce versions are ideal for competitions or work in the bag or with strikers, the 12-, 14-, and 16-ounce versions are great for general training and sparring. The high-density internal padding best cushions the blows and protects your hands. Made in Thailand.
SKU: 6699-BGVL3-RETRO/10 Oz/MARRONE
Brand: Twins Special
Once: 10, 12, 14, 16 Oz
Color: brown
Outer coating: 100% genuine leather
Inner padding: foam with triple layer
Closure: velcro
Made in: Thailand